It's finally Autumn/Winter (kinda) and I've celebrated by watching The September Issue (again) whilst ironing and I'm currently reading Grace A Memoir by Grace Coddington, her musings and an irresistible insight into a world of smoky, fabulous, European, jet-set, vintage-age fashion, long since forgotten. More on that when I've finished!
Now, let's talk more about me, yeah?
A while back I gave my verdict of LCM: AW13 shows (read here) and I was leaning more towards a minimalistic, quality over quantity approach. That's all well and good, but I've since been seduced by the ghetto fabulous print-mania that is seeping through the high street and from high-end designers like James Long. Fickle, moi?
Jacket, Taxonomy, TOPMAN, £70.00
Tee, Samsoe & Samsoe, TK Maxx, £10.00
Necklace, Urban Outfitters, Gift
Shoes, Cross Hatch, TK Maxx, £12.00
Hat, State Property, River Island, £7 SALE
I adored this jacket since the moment I saw it. I was at the press launch of the new TOPMAN store in Manchester Arndale and it was the first time (I believe) that Taxonomy had been included in the North West TOPMAN collections. It's such a gorgeous print and gives a touch of sports luxe to any outfit. I'd usually style this with tighter jeans but I thought drop-crotch was more fun for this look.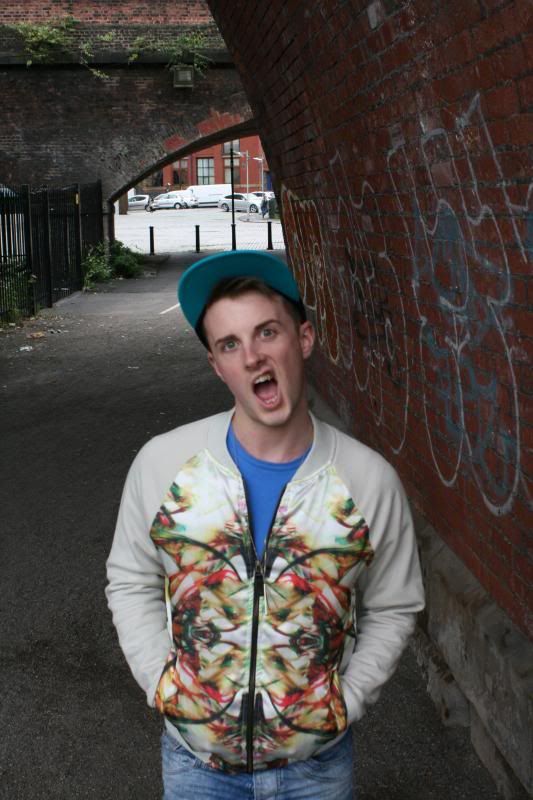 A really cool necklace, a birthday gift from a dear friend, that sets the whole look off.
An object of intrigue for many who know me personally, because they all consider this item something they'd never expect me to own, let alone wear. However. I've been looking for just the right hat for a while since I'm going to need one for my holidays to Disney World (I know, exciting!) I wanted to make a statement with is, like, "yeah, I know I don't do hats, so when I do do hats, I do it right, yagetme?" Think it works?