So, for those that follow me on Twitter (@jordanjmcdowell), you may have heard that I've got a new job. I'm absolutely loving it, the team are great and the projects are exciting. But, guess what, it's not in fashion!
Shock, horror.
It's interesting because, whilst I made the concious decision to leave the land of fashion (when it comes to my 9 to 5) I seem to take a much more careful consideration about what I wear to work than I ever did. When you work in fashion, you're expected to wear your own fabulous clothes to work. I certainly enjoyed this for a bit, but it became difficult to differentiate between in-work me and off-duty me and I didn't like that. So, I started taking less care and I basically started looking a little shit when I was in work.
That all changed when I joined a team with workwear rules!
Well, not exactly rules, the office is pretty relaxed, if I wanted to wear t-shirts and chinos, there wouldn't be much back-lash, but I choose to where something a little bit smarter and I'm loving toying within the strict guidelines of men's workwear, it's a novelty!
As part of my new found love for workwear, I'll showcase a different workwear look on my blog each working day of this week, first up, Monday.
Bow Tie, Primark @ Selfridges, £2.00
Trousers, H&M, £15.00 SALE
Brogues, Burton, £55.00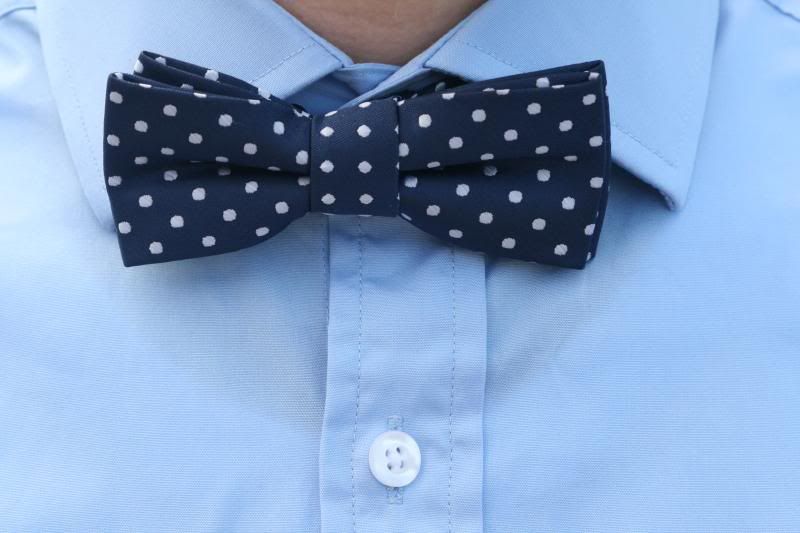 A simple look, working on a palette of blue hues, with that kind of matte sheen that gives you a boost on a Monday morning!
The shirt, fully fitted, is worn over an M&S 100% cotton men's v-neck vest tee, for temperature control and comfort.
Looking forward to tomorrow's outfit!