Ecommerce Expo Manchester was in town last month at the Manchester Central Convention Centre and whilst in the midst of desperately trying to keep my head above water whilst tackling a website relaunch at work, I popped by to sit in on the SearchBroker seminar on Customer Engagement and Findability. Quite the intreguing title, don't you think?
Basically, Search Broker are a bunch of people that are interested in search. No, not Googlers, these guys play closer to home and concentrate on the navigational matrices built within our websites. Y'know, the search bars on fashion sites where we type what we're looking for. Caught up, right, now for something more challenging...
Angel Maldonado, the Spanish CEO of Colbenson (license owners of SearchBroker) and excellent public speaker to boot, introduced himself and his now international company looks at search. They look at people.
"When a customer comes into a store," said Maldonado, "they ask you for something, you don't do this." Angel then walked away from his invisible and hypothetical consumer and mimed taking something off of a shelf and returned to the original spot, all in silence.
It's about putting the personal into ecommerce, making our websites behave more and more like human beings, responding to the emotions and requests of consumers in nuanced ways.
But, how do we make our websites do that?
Angel wasn't about to give away too many secrets, he wouldn't have Mango, the Spanish General Council of Judicary and Zara as paid up clients if that was how he did business. Mind you, he did give some really interesting pointers.
Colbenson client, Zara, are undergoing a major overhall of their on-stire search mechanism, and Search Broker is the reason. An international roll-out, across the brand's 18 global territories, is currently underway with the Spanish site being the first to adopt the new technique. Watch closely...
Here's the Zara website as you no doubt know and love it...
Here is the left-hand side navigational menu, with the search box at the bottom.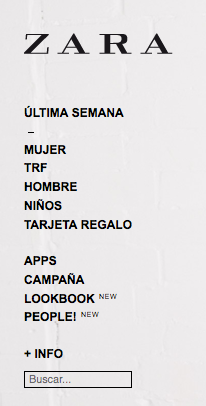 Now, when we click into the search box, to begin typing our search term, something strange happens. Instead of doing nothing to indicate that the site knows we're about to ask it a question, the search box (with our cursor still within it, helpfully) flys upwards toward the Zara logo, causing all the other distracting navigational options to disappear.
Nifty.
Now, when we begin to type that search term within the search box, our old friend "auto fill" pops up with suggestions, becoming more and more refined as we complete our search term.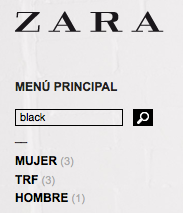 Simple, yes, but effective? Oh my yes. With 22% of all online fashion consumers making up 69% of the spend*, these savvy shoppers expect wonders from their multichannel browsing and we need to be prepared to provide what they want, when they want it, with a big digital smile on our website's faces.
END.
*Digital Diva Report