I must be getting old because I find myself wandering around places like M&S and John Lewis saying things like "oh, doesn't this look comfy?"
Mind you, I can drag myself into a slightly more hip 'n hap'nin store from time to time, like Zara, which coincidently is where I bought these rather amazing sweatpants t'other day. Why are they so amazing? Well, they have single-handedly inspired another of my looks for the Spring/Summer 2013 season: slouch.
Tee, American Apparel, £16.00
Sweatpants, Zara, £19.00
Flip-Flops, Havaianas, gift
Work-Life balance has become a really important thing for me of late, every ounce of my being is put into ensure that I maximise the time I have at home with my cat and Adam and I think it has inspired this uncharacteristic wardrobe shift.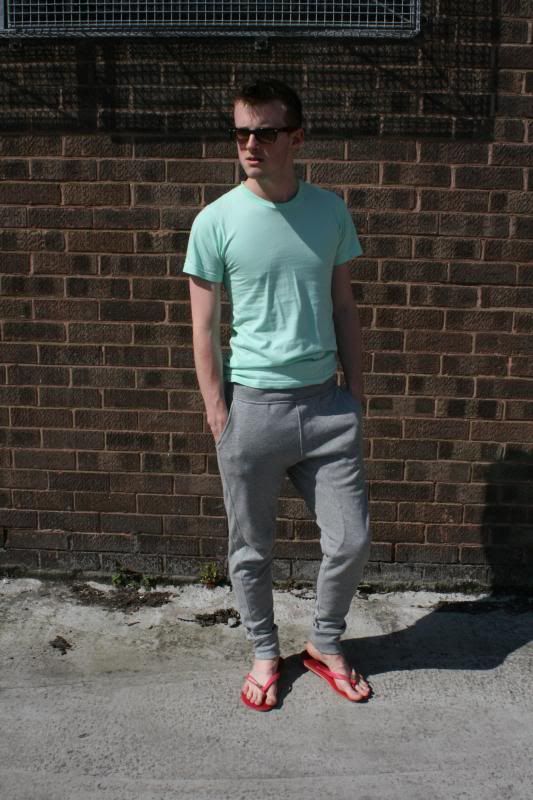 I've always been the fashion-freak in my friendship groups, I'm known for loud outfits that cause people to comment and am regularly berated for wearing stupid shoes that are so ill-fitting they're stained with my own blood.
However, whilst I remain that daft fashion boy with more costume jewellery than his camp mother, when I'm trying to, y'know, live life, relax and spend quality time, I don't want all that jingle jangle getting in the way and that's why I'm loving this kind of look for days spent pottering around the flat, town or garden centres with my beloved.
You never know, perhaps I'll be buying a Juicy Couture velour tracksuit next (I won't)
END.