I popped by USC in Manchester Trafford Centre t'other night because Diesel are making a right fuss about something called a Waykee.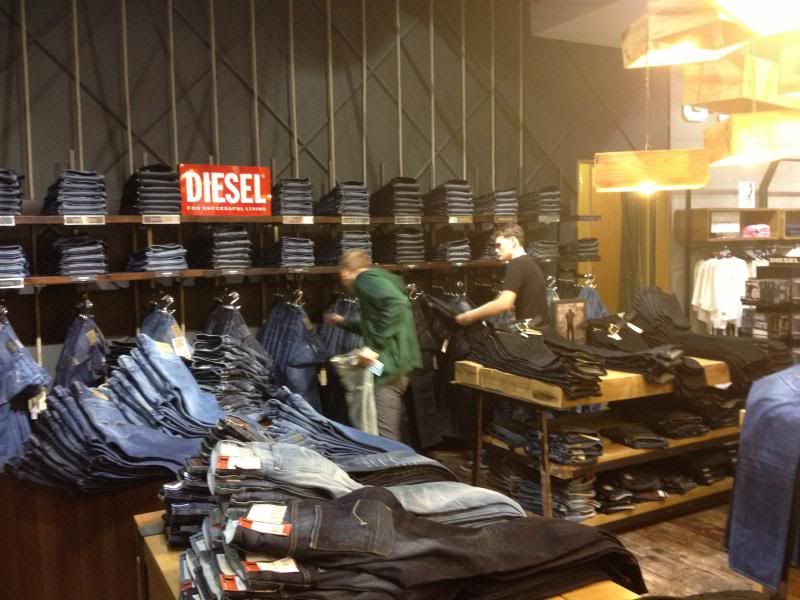 USC Manchester Trafford Centre
I know, WTF? But, apparently, Waykee is a type of jean. Who knew? Those of loyal Diesel persuasion (and enviable bank accounts) will no doubt have heard of the Larkee, the brand's best selling jeans style, a simple loose fitting regular straight leg in a plethora of shades and finishes. Well, in an effort to capitalise on the success of the Larkee, Diesel sought to reinvent the wheel with the Waykee, which is the Larkee, only with a waist band 0.5 inches higher and a leg 1 centimetre more tapered from the knee down.
The Larkee, in all their glory.
Not exactly revolutionary you say? Well perhaps not, after all, 1 centimetre, when all is said and done, isn't a lot. Mind you, in jean world it can make quite the difference. It turns a regular straight leg into a regular straight with a leg (from the knee down) 1 centimetre more tapered. See? No really, it is a noticeable difference.
Shoes, Converse at Ryan Vintage £15.00
Now, I'm not a Larkee man. I don't have the build to pull off a jean style any wider than a (silk-cut) cigarette leg and regularly opt for a pair of skinny jeans over any other style. So, when Waykee was introduced to me as a the leaner younger brother of the Diesel "Dad jean" Larkee, I was excited to see what it was all about.
So, I tried them on and they are a lovely fit, the 807R blue style includes that pinned-up ruffed look on the hem, a leather back patch reads "made to last" and there's a discreet metal plate, which reads 1978, that's a nice touch.
The rise was flattering, that 0.5 inches made the difference, but the leg was just too wide for me and I think that, since the style launches at USC for this season, the dark blue and black colour options are too Autumnal when consumers want light hues and fabrics for summer months.
Having said that, I adore the vest I nabbed, also from Diesel, it's a kinda retro wall-paper pattern, perfect for the summer months when I may eventually get a tan!
But, what do you think? @jordanjmcdowell
END.