One question I have been asking myself, since the concept was announced, why is it called London Collections: Men? Why isn't it just London Men's Fashion Week? WHY, I ASK!
One thing you might be asking is, why am I so late blogging about it? Well, dear reader, I live in the Republic of Manchester and LC:M, as the name so blaitently expresses, is a Londoner's gig and I've been a little out-of-touch despite the rather incredible effort from the BFC to boost the newbie event's presense via Social. Also, I've been totes busy detoxing from Christmas, so there.
My thoughts after two season? Good on ya Dylan Jones for giving menswear and kick up the arse and all without making it a big scary fashiony circus. Even those fence face masks were rugged, masculine and got even the most boyish of non-fashiony man talking. Woop!
Thought I'd do the true Blogger thing and pull together my mood-board of must-haves for reference to in later outfits post etc. Et Voila.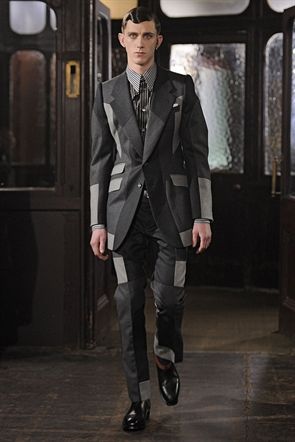 Alexander McQueen, Alexander McQueen, J W Anderson, J W Anderson, James Long, James Long, Jonathan Saunders, Jonathan Saunders, J W Anderson, MAN, Mr Start, Mr Start, Mr Start, Nicole Farhi, Richard Nicoll, Richard Nicoll, TOPMAN Design, Christopher Kane.
I think I'm going to go as far as I can with channelling my inner James Long without loosing my wish to be a minimalistic Prince a la Richard Nicoll, for AW13. I'm going to continue to focus on plain and simple pieces that evoke quality and longevity, whilst tapping into this broad shouldered, narrow waisted silhouette. Hey, I may even don a garden fence and a strapless boob-tube too.
END