A while back I was carted off from my Manchester home to London to get lost in Shoreditch looking for a photography studio. Why, I hear you ask? Well, TM Lewin had a problem: 'how do you make the white shirt exciting' and they needed the help of a few fashion-peoples to answer their predicament.
For those that don't know TM Lewin, they are the workwear extraordinaire that is usually situated in glossy streets with high chrome buildings near bankers, lawyers and other suited types. I've had a secret love affair with the brand for a while, allow me to tell you why.
TM Lewin may not be your first choice when it comes to fashion, but their shirts are the business. Measured by neck and arm length they offer the best fit on the British highstreet. Like most men, my body doesn't fit the boxy mould offered at most menswear retailers. I have an average neck size, quite broad shoulders and the waist of a fourteen year old girl. This is not a helpful thing when one is shopping for shirts. However, the TM Lewin full fitted shirts, measured to fit your arm and neck, are perfect. I've never had a shirt that fit so well.
Also, do you remember when TOPMAN stocked those awful saggy shirts but with a chrome collar pin attached? Well, TM Lewin offer collar pinned shirts that aren't made of flannel (as loved by Gary Barlow, naturally). I'm a bit of a fan of the collar pin because they offer the chance to wear a shirt buttoned up, without a tie, but with a point of difference. I attended an Armani party last season and hung a little skull pendent off my collar pin, because I'm obviously dynamite with the accessories.
Now. Back to my mission. Along with lady-bloggers like Ree of ReallyRee and Amanda of The Online Stylist other gents I was herded into a tiny photography studio to have hair and make-up done ready to strike a pose. The bloggers were being asked to don a, previously chosen, white shirt from TM lewin and wearing it in a way that made it different.
So, what did I do? I paired it with black trousers. But, before you condemn me, I paired it with trousers because I was playing my shirt down. I had added metallic collar tips to my shirt to make it just that bit more blingy. I picked some studs up from TOPSHOP and pierce my collar with them. I love the outcome. I hope you do too!
Collar Tips, (earrings) Freedom for TOPSHOP, £7.00
Trousers, TOPMAN Ltd., £45.00
Cufflinks, Tiffany and Co., Gift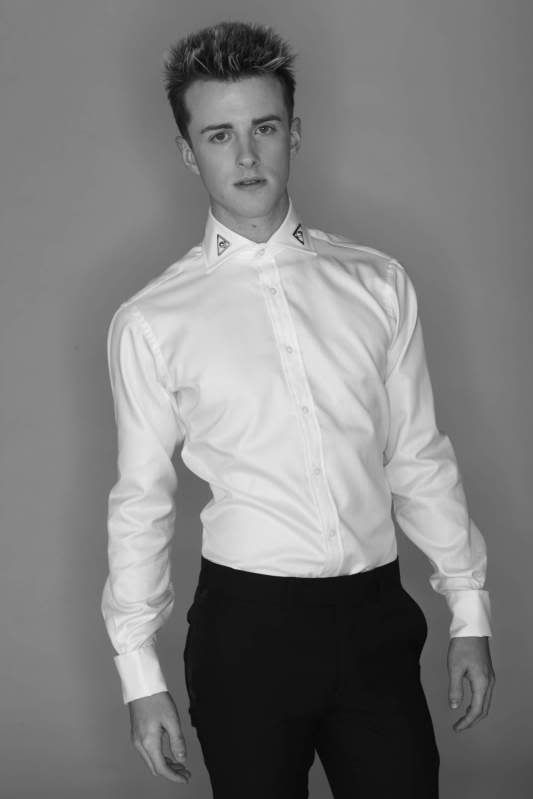 I can not be held responsible for the bow tie. Someone thought it looked good and threw it on me. I disagree. Why wear a bow tie if you're not going to tie it up?